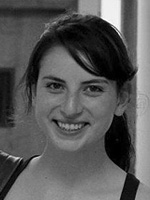 Ledah Finck was a recipient in 2012 of the University of North Carolina's Kenan Music Scholarship, a full scholarship offered to four students a year for musical and academic merit. She attended UNC Chapel Hill under the teaching of Richard Luby and Jennifer Curtis. Currently she studies at the Peabody Conservatory, pursuing masters degrees in both violin and composition in the studios of Herbert Greenberg and Oscar Bettison. As a graduating senior at Peabody, she was awarded the Sidney Friedberg Prize in Chamber Music and the J.C. Van Hulsteyn Award in Strings.

For more information about Ledah, go to her web site
She is from Boone, North Carolina and plays a violin completed in 2013 by her father, David Finck.